The Ultimate Guide To Buying Your First Home
Thursday, May 4, 2023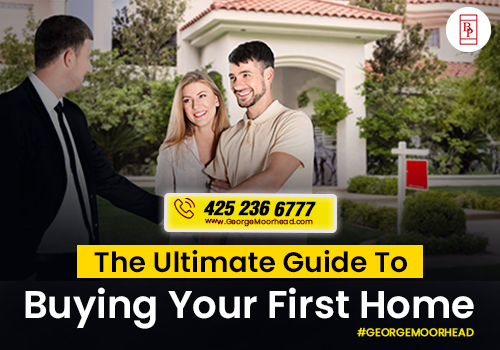 Buying your first home is an exciting and important milestone, but it can also be a stressful process full of unfamiliar terms and paperwork. With so many things to think about, it's easy to feel lost or uncertain about where to start. So, we made the ultimate guide to buying your first home to give you all the information you need to go through this process with confidence. 
Whether you want to know how to buy a house for the first time or just need a refresher, our guide to buying a home will help you make smart decisions and realize your dream of owning a home. What are we waiting for? Let's just jump right in!
Establish Budget and Get Pre-Approved for a Mortgage
Defining your budget and getting pre-approved for a mortgage is one of the most critical first steps to buying a house. Before you start looking at homes, you need to know how much you can afford and what kind of mortgage you can get. Taking this step will help you narrow your search to homes that are within your price range and save you time looking at homes that are too expensive.
To make a budget, you need to look at your income, expenses, and the amount of debt you have compared to your income. Online calculators can help you figure out how much you can spend on a house. When doing this, make sure to think about all of the costs that come with being a homeowner, such as property taxes, insurance, and repairs.
When you know how much you can afford, it's time to look around for the best mortgage rates and terms. Do your research and compare lenders based on things like interest rates, fees, and closing costs. Finding the best interest rate is important because it can make a big difference in how much money you'll pay back over the life of the loan.
The next step after looking around is to get pre-approved for a mortgage. A pre-approval is a letter from a lender that says how much money they are willing to lend you. Pre-approval shows sellers that you are a serious buyer and can give you an advantage in a competitive market. It can also keep you from falling in love with a home that you can't afford.
Find the Right Location and Type of Home for You
Finding the right location and type of home for you is another crucial step for first time home buyers. Choosing the right location and type of home will impact your daily life and long-term investment, so it's essential to consider your lifestyle, priorities, and budget. For instance, people who work in Bellevue may want to look for homes for sale nearby or in Bellevue real estate itself so that their commute isn't too long. Here are some tips for finding the right location and type of home for you:
Consider Your Lifestyle & Preferred Location:
Think about your daily routine and priorities. Do you want a shorter commute, access to public transportation, or proximity to schools or parks?

Research the neighborhoods and cities that fit your preferences. Consider factors like safety, community amenities, and property values.

Visit the neighborhoods you're considering at different times of day to get a feel for the area.
Research Neighborhoods & Amenities:
Look for information about crime rates, schools, and local amenities like restaurants and shops.

Check online forums and social media groups to get insider perspectives on different neighborhoods.

Consider how the neighborhood may change in the future. Is it up-and-coming or on the decline?
Decide on The Type of Home:
Think about your current and future lifestyle. Do you need a home with multiple bedrooms or a large yard for a growing family?

Consider the level of maintenance and upkeep required for different types of homes. Do you want a low-maintenance condo or a single-family home with a yard?

Look at homes in different neighborhoods to get an idea of what kind of properties are available within your budget.
Work With a Real Estate Agent
Working with a real estate agent is a critical step in the home buying process, especially for first-time home buyers. A good agent can help you navigate the complex and often overwhelming process of buying a home, provide valuable insights into the local market, and negotiate on your behalf to get you the best deal possible. Some of the benefits include:
Expertise & Guidance:
A good agent can provide valuable insights into the local market, including up-and-coming neighborhoods, school districts, and community amenities.

They can guide you through the process, answer your questions, and help you make informed decisions about the homes you're considering.

An agent can also provide referrals to other professionals you may need, like home inspectors or mortgage lenders.
Access To Listings:
Real estate agents have access to a vast database of listings that may not be available to the general public, including homes that are coming on the market soon or are being sold privately.

They can also set up showings and accompany you to open houses, providing valuable feedback on the homes you're considering.
Negotiation Skills:
A good agent has experience negotiating with sellers and can help you get the best deal possible on your home.

They can advise you on the appropriate offer price, negotiate on your behalf, and help you navigate counteroffers and other negotiations.
Find a real estate agent who knows the local market, is responsive to your needs, and has a successful track record. You can ask for referrals from friends and family or search online for reviews and ratings.
Get A Home Inspection & Appraisal
Getting a home inspection and appraisal is a crucial step in the home-buying process. A home inspection gives a detailed report on the property's condition, including any problems that could affect the home's safety or value. However, an appraisal is based on the property's condition, location, and comparable sales in the area. Here's why you should get both:
Identifies potential issues.

Estimates repair costs.

Confirms the value of the property.

Fulfills lender requirements.
Close The Sale & Move In
The last step in buying a home is closing the sale and moving in. It's an exciting time, but there are still important things that need to be done to make sure your move into your new home goes well. Here's what you need to do:
Review the closing documents: Before the sale can be finalized, you'll need to look over and sign a number of legal documents, such as the mortgage, deed, and closing statement. Make sure to read everything carefully and ask questions if you're not sure about something.

Do the final walkthrough: Before the closing, you'll have a chance to do a final walkthrough of the property to make sure everything is in the condition you agreed upon. This is your last chance to find any problems and make sure everything is fine.

Transfer utilities: Make sure you call the electric, gas, water, and internet companies to get the services switched over to your name.

Pack and move: Once the sale is over, it's time to pack up your things and move into your new home. Hire professional movers to make the process go more smoothly and quickly.

Celebrate: Buying a home is a big deal, so take some time to have a party with your family and friends. Consider hosting a housewarming party to show off your new home and start making memories.
Summary
Remember, buying a home can be a complex and stressful process, but by following the steps in our first time homebuyer guide, you can make it a successful and rewarding experience. Don't be afraid to ask questions, seek guidance, and take your time to ensure that you're making the right decisions for your future. Congratulations on your new home!
We would like to hear from you! If you have any questions, please do not hesitate to contact us. We are always looking forward to hearing from you! We will do our best to reply to you within 24 hours !