Buying or Renting! 7 Questions To Answers This Before Deciding
Tuesday, December 20, 2022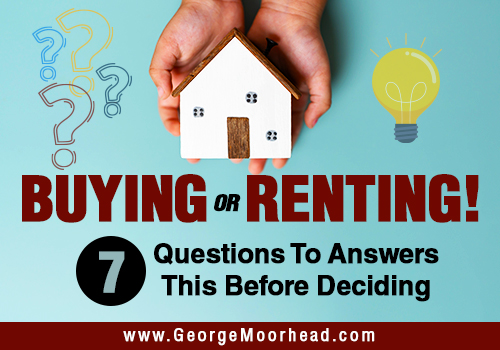 In today's economy, many people are deciding whether to buy or rent their homes. Renting and buying are two different options that homeowners have when it comes to purchasing a home. Prior to making a choice, it is critical to weigh the advantages and disadvantages of each option. In order to help you decide the best course of action when looking to invest in WA real estate, this article will list seven of these questions, explain why you should answer them, and give you advice on how to proceed. Interested? Keep reading!
1. How Much Can You Afford in Monthly Housing Costs?
This question is pretty straightforward. If you have a budget set aside for rent, you should know how much you can comfortably spend each month. The monthly cost is an important factor to consider when deciding between buying or renting. Renting is usually cheaper than buying, but there are a few factors to consider. 
There are many factors that go into determining what amount you can afford. These factors include:
Your current income.

Your credit scores.

Checking the lease agreement. 

Your debt loads.

Your future plans.

Property condition report.
Furthermore, it is important to consider the length of the contract, the amount of the down payment, and the interest rates. It is also important to consider the location and condition of the property. 
2. Are You Prepared For A Long-Term Investment?
If you plan on staying at home for a while, then you need to consider whether or not you're ready for a long-term commitment. Homeownership is a long-term investment, and it is important to be prepared for the long term. There are a number of things to consider when buying a home, including the area in which you want to live, the price of the home, and the mortgage that you will need to take out. 
Finally, homeownership is a long-term investment, and it is important to be prepared for the long term. If you're not sure if you want to stay for a few months or a few years, then renting might be the best option for you.
3. How Long Do You Plan on Staying In The Home?
You need to think about how long you plan on staying in your home before making any decisions. If you plan on moving out after a year or two, then buying may be the way to go. However, if you plan on staying for several decades, then renting could be the right choice for you.
4. Do You Want Stability or Flexibility?
Buying a home provides a sense of permanence and stability that can be hard to find in other areas of your life. On the other hand, renting allows you to be flexible with your living situation but can be difficult to predict or control.
Stability is great, but sometimes you just need some flexibility. If you don't mind having to move around often, then renting might be perfect for you. On the other hand, if you prefer to settle down somewhere and live there for a while, then buying might be the best option.
5. Can You Afford Home Repairs and Maintenance?
If you have been renting for a while, then you might not realize how much money you spend each month just to keep your home in good condition. Before making any decisions when looking for homes for sale, you should be aware of the costs associated with repairs and maintenance.
One must be prepared to make repairs and maintenance when purchasing a home. This includes knowing what to expect and having the necessary tools and supplies. It is important to research the specific home you are buying. This includes checking for any damage, potential issues, and any repairs or maintenance that may need to be done.
Additionally, be prepared to budget for repairs and maintenance. This includes knowing how much you can afford to spend and what needs to be prioritized. It is also critical to have a contractor or home inspector check the home for repairs and maintenance before you buy. This will help avoid any surprises later on.
6. What Are Your Financial Goals?
When buying a home or renting, it is important to know your financial goals. This will help you choose the right home or rental for your needs and budget. Your budget is the most important factor when buying or renting a home. You need to figure out how much money you want to spend on a home and how much you can afford to spend. Your needs are also important when buying or renting a home. You need to think about what you need in a home. This includes things like a bedroom, bathroom, kitchen, and living space.
Furthermore, you also need to make sure that you'll be able to afford the monthly payments on your mortgage. But if you're planning to move out of your current home soon, you may want to consider selling it first. That way, you won't have to worry about paying off your existing loan.

 
7. Homeownership in the Neighborhood You Wanna Live In Affordable?
When you decide to buy a home, you'll probably want to live close to where you work and go to school, whether it's in the Real Estate Sammamish WA, area or somewhere else. But if you don't have enough money saved up right now, you might want to think twice about buying a home in a neighborhood that isn't close to public transportation.
Takeaway
In conclusion, it is important to consider your long-term financial goals when making this decision. The decision of whether or not to buy or rent a home is a difficult one to make. There are many factors to consider, including the cost of housing, the interest rate, and the availability of mortgage resources. Ultimately, the decision comes down to what is best for the individual and their needs. Finally, we hope that this article has improved your ability to evaluate your choices and will assist you in coming to the best decision for you.
 
We would like to hear from you! If you have any questions, please do not hesitate to contact us. We are always looking forward to hearing from you! We will do our best to reply to you within 24 hours !