Existing Home Sales Fell 7.7% But Consumer Confidence at 8-Month High!
Monday, December 26, 2022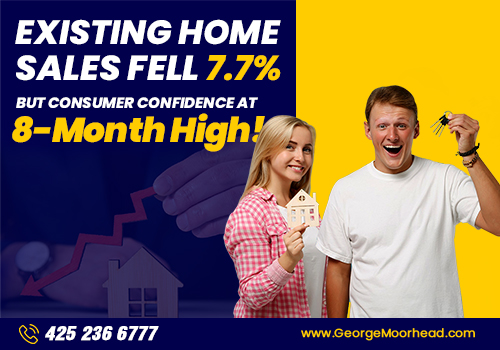 Locally we are seeing buyers re-entering the market as Pended sales are up along with the closed transactions.
Yes, you read that right! Consumer confidence recently reached an 8-month high, despite a 7.7% decline in existing home sales. "How is this possible, and how could this happen?" you may be wondering. Your worry is understandable, but you don't need to worry because we'll be looking at the seven-day running average, which will give us factual information rather than fiction. Read the report in its entirety to learn what is causing this situation and what you should be doing as a buyer or seller.
Running Seven-Day Average
As the name suggests, the seven-day average is a market trend indicator for the previous seven days. It provides information on recent events, is an excellent short-term indicator, and detects trends earlier than annual reports. Below is the seven-day running average on the 25th of December. 
New Listing   —     258
Listing Sold   —         730
Listing Pending   —         799
Back on The Market —       99
List Price Reduced     —        264
Listing Expired   —     92
List price Increased  —          29
Contingent     —     22
Listing Cancelled   — 146
Please note that there were 258 new homes listed for sale in the past seven days, on average. Additionally, the fact that there are nearly 800 pending homes with 73 sales is a strong indication that you should enter the WA Luxury Real Estate market. 
Since 99 homes have been placed back on the market this week alone, buyers should act quickly. This is significant because these sellers missed the opportunity to sell their properties. Losing a potential buyer always hurts the seller, so as a buyer, you can take advantage of this opportunity and see if you can find a great deal for yourself. 
On the other hand, people looking to sell should take advantage of this opportunity to present their property to this buyer. This is a fantastic opportunity that should be noticed. 
Increased Inventory
Compared to 2021, the amount of inventory has significantly increased this year. But you must realize that this is due to the significant increase in mortgage rates this year. It is not surprising, however, that buyers who were holding off and are now almost finished holding off are flooding the market as a result of the declining mortgage rates. 
Additionally, we have stated repeatedly in previous reports that this trend will continue and that the inventory you are seeing will undoubtedly find a lot of buyers in the upcoming quarter. A market slowdown is not necessarily bad; you must remember that. It creates a chance for the price to stabilize, ensures no market bubble, and maintains a fair market for buyers and sellers.
What Is Consumer Confidence, And Why Has It Grown?
Real estate is an integral part of the economy, and consumer confidence is critical to its health. This year, consumer confidence has been waning, possibly due to several factors, including increasing interest rates. However, at the moment, consumer confidence has been rising, and now it is at an eight-month high. 
One reason for this increase is that home buyers feel more confident about their ability to buy a home. 

Additionally, the market is improving, which is helping to increase consumer confidence. 

Various factors contribute to consumer confidence, such as decreasing interest rates and strong job growth. Overall, consumer confidence is up, which benefits the real estate industry.
Why Does It Even Matter?
Consumer confidence is vital in the real estate market because it helps keep buyers and sellers interested. 
Real Estate Market For example, when buyers feel confident in the market, they are more likely to make an offer and are more likely to be satisfied with the purchase. 
On the other hand, when sellers have confidence in the market, they are more likely to list their properties and are more likely to receive offers.
Finally, consumer confidence is affected by various factors, including the economy, the stock market, and the real estate market. The best way to maintain consumer confidence in the real estate market is to closely watch the economy, the stock market, and the real estate market.
Takeaway
Ultimately, a significant increase in inventory and a consistent decline in mortgage rates have made home prices more accessible than ever. The bottom line is that you should seize this chance while there is little competition because if you don't, you'll kick yourself when there are many buyers in the market the next quarter. Thank you for reading, and if you think any of your friends would find it helpful, please let them know. 


Locally we are seeing buyers re-entering the market as Pended sales are up along with the closed transactions.
We would like to hear from you! If you have any questions, please do not hesitate to contact us. We are always looking forward to hearing from you! We will do our best to reply to you within 24 hours !