Inspection Traps To Avoid When Buying Or Selling Your Home
Monday, January 23, 2023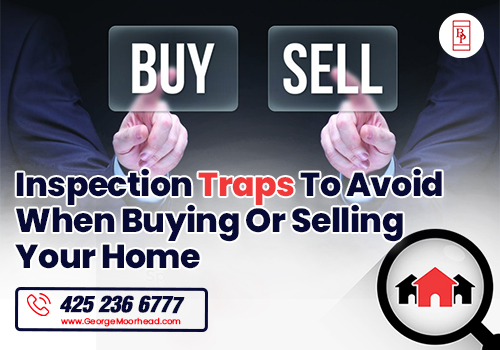 When buying or selling a home, inspections are typically a major step. In this home inspection checklist for buyers, we'll show you the biggest mistakes to avoid
During the process of purchasing and selling a home, both buyers and sellers compete for access to the home inspectors that are in high demand. Completing the necessary paperwork to get their homes ready for sale is the final step in the buy-sell-transfer process. But before handing in deeds, families must ensure their homes are free from problems. With that in mind, here's what you need to look out for when buying or selling your home.
Why Even Bother Doing An Inspection?
When buying a home, it's crucial to have a home inspection to make an informed decision, this is especially true in places like the Washington Real Estate. Pre-purchase home inspections can reveal any issues. In the long run, doing this can save you money. Here are some reasons why you should inspect your home: 
You'll Save Money on Future Repairs
The costs associated with repairing minor issues in your home can be greatly reduced if you have them checked out beforehand. In the long run, the cost of repairs and maintenance can add up, but you can avoid some of those expenses with a home inspection.
Among the many things a home inspection can reveal are issues with the roof, plumbing, and electrical systems. Resolving these problems before they escalate will save a lot of money.
You'll Get an Accurate Report to Make Informed Decisions
If you want to buy a house with your eyes wide open, then a home inspection is a must. The inspection will help you find any potential problems with the home, and the report will tell you about the condition of the property. There will also be ideas in the report for how to fix or improve the property.
If Something Goes Wrong, You'll Be Ready
A home inspection is helpful for people buying and selling homes. Find any problems with the house and use its assistance to ensure the sale goes off without a hitch. Use it to help you find problems with the house and fix them before you try to sell it. 
You'll Have Faith In the State of Your Home
Home inspections give people peace of mind about the state of their homes. Inspectors use various methods to determine how well a house is built, such as looking for leaks and structural problems. Homeowners can feel good about their home's safety and condition if they know the signs of a problem and have an inspector check for them.
Helps You Out During Negotiation
In our current economy, you need to be smart when you buy or rent something. Home inspections are sometimes essential and can help you get a better deal. Inspectors are experts in their field and can help you find problems with property that you might not be able to see with your own eyes. Before buying or renting something, you can ensure you're getting the best deal possible by having it inspected.
Five Things to Remember During An Home Inspection
Now that we've covered why a home inspection is such an essential step let's discuss today's inspection checklist that must be kept in mind when buying a house. The following are five home aspects that must be checked during the inspection process.
The Foundation
As part of a home inspection, it's crucial to consider the foundation's condition and other exterior features before deciding. There is a great number of aspects to a house that must be scrutinized during an inspection. However, the shape of the foundation is something that must be addressed. 
Cracks, leaks, or even collapse can occur if the foundation isn't in good shape. When you hire a home inspector, make sure they look at every part of your property and give you a detailed report. During this process, bear the following in mind:
Foundation movement: If there are cracks in the foundation, water gets into the ground and moves the building.

Foundation cracks: If there are cracks in the foundation, too much pressure is put on one part of your home. This could eventually cause it to fall. 

Foundation separation lines: If your foundation has some raised separation lines, there may be a problem with the footing, which could cause the building to fall.
Many foundations are strong enough that they might be kept the same. However, if you notice any of the following signs, it is best to contact a structural engineer for possible repairs or replacements.
Heating And Electricity
Heating and electricity costs are high and can be hard to deal with, especially in places like Sammamish, WA real estate. One of the reasons these systems can end up costing you more than you expected is that they must be thoroughly checked during a home inspection.
When a home inspection is thorough enough to check for heating and electricity problems, it also ensures that these systems are working correctly. If the home inspector finds problems with the heating or electricity, they can tell you so that it doesn't cost you more money in the future.
Outlets & Recall Panels
When a home inspector looks at a house, they must be thorough because it can be expensive and hard to find problems. During the process, an inspector must check a lot of things. If an electrician or plumber was working on the circuit nearby, an outlet should be limited to ensure it is not dangerous. Make sure that a recall panel isn't leaking by checking it. 
The inspector should also look at how that panel is doing. There needs to be an inspection to ensure there isn't anything dangerous in the area, and if there is, it needs to be brought up to stop more damage or injury. A home inspector is required by law to thoroughly check all systems to see if they were installed correctly, tested, and commissioned. 
When checking for problems with electrical wiring systems and plumbing fixtures, they often use tools like pencils, screwdrivers, tape measures, and probes. Doors, windows, and cabinets could be inspected in a variety of other ways as well. 
The Condition of The Toilet & Plumbing
The cost of a plumbing issue can be quite expensive and troublesome. For instance, if your drain is clogged, water can back up into your home. Depending on the issue, a simple fix could cost hundreds of dollars. It is important to check these two things during a home inspection because they are both major parts of your house. 
Before they can give you a written report, a good home inspector will tell you that your house needs plumbing and a toilet. If either isn't working right, your house could flood or have other significant problems. 
To sum it up, the condition of your home's plumbing and toilets is a major factor in the sales price. It may be hard to identify what started bothering them. Even if the home inspector didn't find anything wrong, a plumber might have to fix them. 
The Roof 
Make sure to look at the roof's slope and see if water flows away from the building. Most of the time, a clogged drain is caused by tree roots that are growing against and into the main sewer line. This usually happens when your yard lacks plants and trees that grow near your sewer line. 
The best way to stop this is to have enough plants around your house so that nothing can grow close to it. If a tree grows too close to your home, you should cut it down at the base and plant new plants around it.
How water drains away from your house depends on how steep the roof is. To do this, ensure your roof has enough rainwater running off it. Sewer gases will also not be made when rainwater is drained away.
Ending Remarks
When it comes down to it, having a qualified professional conducting this home inspection checklist for buyers is an essential step in the home-buying or home-selling process. People who are selling their homes for the very first time should also give this step a lot of consideration. You can sell your home successfully and avoid making these home inspection mistakes that will cost you a lot of money if you follow the advice in this article.

 
 
We would like to hear from you! If you have any questions, please do not hesitate to contact us. We are always looking forward to hearing from you! We will do our best to reply to you within 24 hours !