Where is the Real Estate housing market going in 2023? Explained By George Moorhead
Monday, February 6, 2023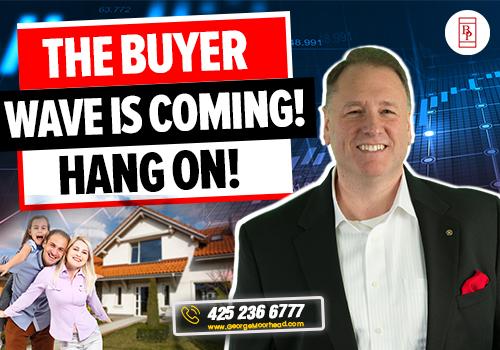 Showing requests are up 17%, and there are twice as many homes pending for every new listing! Mortgage rates are falling, indicating that inflation fears are dissipating. See how our current real estate market in 2023 is faring and how best to prepare for a surge in buyers. According to the report, the market is in a strong bull market with numerous profit opportunities. 
Running Seven-Day Average
As the name implies, the seven-day moving average depicts market movement over the previous week. It keeps us updated on recent events, is an excellent predictor of short-term trends, and detects changes in the surrounding environment well before the annual reports that typically cover such topics. Please see below for the weekly average as of February 4.
New Listing   —     735
Listing Sold   —         617
Listing Pending   —       1324
Back on The Market —       122
List Price Reduced     —         372
Listing Expired   —     120
List price Increased  —            71
Contingent     —       34
Listing Cancelled   —     112
You can see above that we have 735 homes for sale coming on the real estate market, but if you look at the pending homes, which are 1324, you will notice that we have roughly twice the number of homes coming off the market for every home on the market. That's critical because we're still drawing down inventory, which is higher than it should be for the season. 
However, pending sales have remained relatively stable despite the significant increase in mortgage rates since last year. This is a sign that buyers understand that now is the ideal time to move because Q1 is just getting started and progressing precisely as predicted in our previous reports.  
Compared To The Previous Month
Look at this table to see how last week's data compares to the previous months.
Average housing inventory levels have dropped by 10.6 percent.

Increase in active listings by 309.2% 

Listings are selling at a 193.79% higher rate.

More homes were under contract, up 142.2%.
Compared to the previous month, January, which was a fantastic month in its own right, there was a massive increase in activity. 
Compared To January 2022
It's time to compare the real estate data from this week to the same period from the previous year, and the results look promising for this year!
As a result, 133.4 percent more homes are now than a year ago.

There has been a 22.7% decrease in the number of new listings.

The percentage of listings that were sold dropped by 13.8%.

We see a decline of 8.8% in the number of houses under contract.
 
The most notable difference is that the pending rates are only 8.8% lower than last year when mortgage rates were around 2-3%. Consider this your official sign that now is the time to buy or sell a luxury home in the WA real estate market.
Compared to Last Year
The following was found when we contrasted the February 2023 and February 2022 numbers:
As a result, 133.4 percent more homes are now than a year ago.

There has been a 16% decrease in the number of new listings.

The percentage of listings that were sold dropped by 31.6%.

We see a decline of 1.4% in the number of houses under contract.
It is crucial to note that these statistics are subject to change as the year progresses, but if we continue on this path, we will see the sales activity continue and creep up, just as we predicted.
More Homes Are Going Pended Compared To Homes Coming on The Market
This is excellent news for sellers because it gives them more chances to realize significant profits as more buyers enter the market to purchase homes. Anyone who is debating whether or not to sell their home should do so. Buyer waves are highly beneficial to the real estate market, as they can help to increase the value of properties and the number of transactions. Furthermore, buyer waves have significantly impacted the real estate market. They have caused prices to increase, leading to some houses and properties becoming overvalued.
However, buyer waves also have some disadvantages. First, they can cause a lot of market competition, leading to prices being too high. Second, they can lead to housing shortages as more people try to buy a house simultaneously.
Wrapping Up
For sellers, this is the best time we have seen in a while because there is no shortage of buyers. Plus, if you price your home correctly, you will get multiple offers and an excellent offer for your home among them. We have seen this personally with a few of our clients recently. 
For buyers, you have to target the sellers whose homes have come back on the market and want to sell them so you can pitch your price and get a perfect home for a great price. Finally, stay tuned for our reports every week.
We would like to hear from you! If you have any questions, please do not hesitate to contact us. We are always looking forward to hearing from you! We will do our best to reply to you within 24 hours !