How To Interview A Realtor In 2023 - George Moorhead
Tuesday, March 7, 2023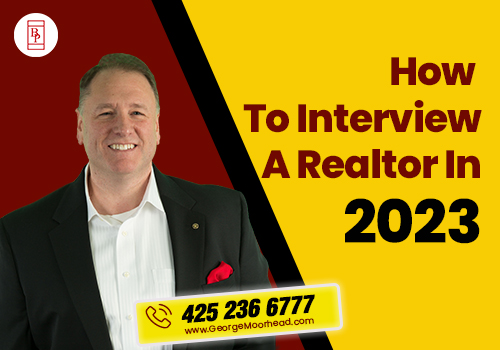 Having the right realtor can make all the difference when buying or selling a property. Finding a good real estate broker can save time and money by helping you learn about the market, narrow your options, find the best deals, and avoid mistakes.
 
In 2023, a successful real estate transaction hinges on working with the right realtor. This post will discuss the questions you should ask a potential realtor to help you find the right one and ensure a smooth real estate transaction.
      1. Define Your Needs and Goals
Defining your needs and goals is an essential first step when looking for a realtor. Before you start interviewing potential candidates, it's important to clearly know what you want to achieve from your WA Luxury Real Estate transaction. You may also have specific requirements for the transaction, such as a timeline or budget.
 
Understanding your needs and goals will help you communicate them to realtors and assess their ability to help you achieve them. By identifying your needs, goals, and concerns, you can find a realtor who can help you achieve the best real estate transaction outcome.
      2. Research Potential Realtors
By researching potential realtors, you'll be able to find a realtor who has the experience, qualifications, and approach that aligns with your needs and goals. This will help you get the best possible outcome from your real estate transaction. Here are some tips for conducting effective research:
Use Online Resources: Start by searching online for realtors in your area. You can use websites like Zillow, Redfin, or Realtor.com to find local realtors and view their profiles. These websites can also provide information on the realtor's experience, qualifications, and reviews from previous clients.
Ask for Referrals: Ask friends, family, or colleagues who have recently bought or sold a property for referrals. Personal recommendations can be a valuable resource for finding a realtor who is experienced, trustworthy, and compatible with your needs.
Check Credentials and Experience: Once you have a list of potential realtors, check their credentials and experience. Look for realtors licensed in your state with experience in your local market. You can also check reviews and testimonials online to understand their reputation and track record.
Interview Multiple Realtors: Interviewing multiple realtors will allow you to compare their experience, qualifications, and approach. This will help you make effective decisions and find a realtor who best fits your needs and goals.
Consider Specialisation: Consider whether you need a realtor with a specific specialisation. For example, if you're buying a luxury property, you may want to find a realtor with experience in that niche. Similarly, if you're selling a commercial property, you may want to find a realtor with experience in commercial real estate.
 

3. Check Their Credentials and Experience
Checking the credentials and experience of potential realtors is an important step in finding the right fit for your needs and goals. Here are five vital factors to consider when evaluating their credentials and experience:
Licensing: First and foremost, ensure that the realtor is licensed in your state. Each state has its licensing requirements for real estate brokers, so it's important to check their valid licences to operate in your area.
Experience: Look for realtors who have experience working in your local market. They must know local real estate trends, property values, and neighbourhoods. Ask about their experience helping clients buy or sell homes for sale Woodinville wa in similar areas or price ranges.
Professional Designations: Some realtors may hold professional designations that indicate additional training and expertise in specific areas of real estate. For example, the National Association of Realtors offers designations such as Certified Residential Specialist (CRS) or Accredited Buyer's Representative (ABR).
Awards and Recognition: Real estate industry awards and recognition can indicate a realtor's performance and reputation. Check if the realtor has won any awards or been recognized by industry organisations for their work.
References: Ask for references from previous clients and follow up with them to learn about their experience working with the realtor. Ask about their level of satisfaction, communication skills, and overall experience working with the realtor.
       4. Must Ask Questions!
The market for real estate is changing rapidly, and it's crucial to be prepared for the changes. To be a successful realtor in the future, you need to ask questions. 
What Online Marketing Do You Do?
MLS (Multiple Listing Service) is a tool real estate agents use to list properties and share information with other agents. While it is an important part of the real estate industry, it is not a marketing strategy in and of itself. Here are some online marketing strategies that realtors may use in addition to MLS:
Direct Response: Direct response marketing encourages prospects to "schedule a showing" or "request more information." Targeted email campaigns, social media ads, and other digital advertising can accomplish this.
Paid Advertising (PPC): Pay-per-click (PPC) is a form of advertising in which advertisers pay every single time a person clicks on their ads. This can include Google Ads, Facebook Ads, or other forms of online advertising. Targeting specific keywords or demographics allows realtors to reach potential buyers actively searching for properties in their area.
Syndication: Syndication distributes real estate listings to multiple websites and online platforms. This can include popular listing websites such as Zillow, Redfin, or Realtor.com, as well as social media platforms and other online marketplaces. By syndicating their listings, realtors can reach a larger audience and increase the visibility of their properties.
In addition to these strategies, realtors may use social media and content marketing, search engine optimization (SEO), and other tactics to promote their listings and build their brand online. By asking about a realtor's online marketing strategy, you can better understand how they use digital tools to reach potential buyers and promote their properties.
How Do You Guarantee My Sales Price?
It is important to note that no realtor can guarantee your property's sales price. The market is constantly changing, and many factors can affect the value of your property, including location, condition, and demand.
 
However, a knowledgeable realtor can help you price your property competitively based on local comps, market trends, and other factors. They can also help you prepare, market, and negotiate with potential buyers to maximise your sale price.
 
When asked how they can help you get the best price for your property, a realtor may explain their pricing strategy, which may include:
A comparative market analysis (CMA) to assess the value of your property relative to similar properties in the area. 
They may also discuss how they market and promote your property and how they negotiate with buyers and their agents.
While no realtor can guarantee a specific sales price, a skilled and experienced realtor can help you navigate the selling process and work to maximize your sale price based on current market conditions and buyer demand.
Where Is Your Book of Buyers?
Experienced agents keep a database of potential buyers and their preferences, which can help match buyers with their properties. When asked about their buyer database, a real estate agent may say they keep track of past clients and new leads from marketing or referrals.
 
When asked about their buyer database, a real estate agent may say they track past clients and new leads from marketing or referrals. They may also use tools such as customer relationship management (CRM) software to organize and manage their contacts.
 
It's important to note that while a Sammamish Real Estate agent may have a database of potential buyers, this does not guarantee that any specific buyer will be interested in or qualified to purchase your property. An experienced agent can help you find the right buyers by understanding their preferences and needs.
        5. Evaluate Their Communication Skills and Responsiveness
Effective communication is essential when working with a real estate agent. You want to work with someone responsive, listens to your needs, and keeps you informed throughout the buying or selling process.
 
This is why it is so crucial to find a realtor who is a good fit for your communication style and preferences. If you prefer frequent updates and ongoing communication, look for a responsive and proactive agent. If you prefer a more hands-off approach, you may prefer a more laid-back agent who communicates well.
 
Ultimately, the goal is to find an agent who you feel comfortable working with and who can keep you informed and engaged throughout the buying or selling process.
Bonus Questions You Must Ask:
How many sales per year do you close?

What is your close rate %?

What is your marketing budget for attracting buyers?

Show us how you market to different demographic buyers.

What Is your list-to-sales price ratio?

Tell us about your marketing team!

Tell us how you bring an offer after ten days on the market.
Wrapping Up
In conclusion, if you are thinking of starting a home purchase or sale, it is best to do so with a realtor in attendance. A well-informed and negotiated home purchase can be a great investment, and with the right realtor on your side, it's sure to be a smooth process.
We would like to hear from you! If you have any questions, please do not hesitate to contact us. We are always looking forward to hearing from you! We will do our best to reply to you within 24 hours !