Real Estate Market Update - Mortgage Interest Rates Forecast And Predictions 2023
Wednesday, March 29, 2023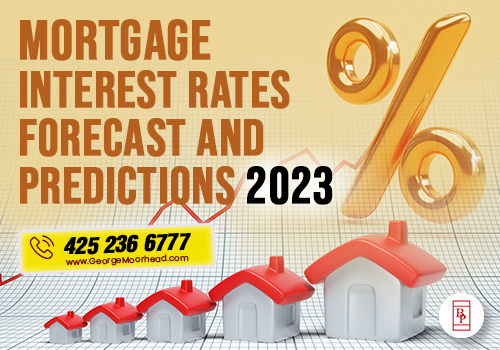 Among the many factors to think about when purchasing a home is the mortgage interest rate. Your mortgage interest rate can greatly impact your monthly payments and total home cost. If you're planning to purchase a home in the next few years, you should know how mortgage interest rates are changing.
This blog post will look at mortgage interest rates forecast and predictions for 2023. We'll talk about how mortgage interest rates are right now and what's affecting them. Lastly, we'll give homebuyers tips and strategies to help them get ready for possible changes.
Current State of Home Mortgage Rates
Knowing the current stage of mortgage rates is an important factor for homebuyers to consider as they prepare to purchase a home. Well, currently, mortgage rates are high compared to historical rates. As of March 2023, the average 3–year fixed mortgage rate is around 6.79% falling 21 basis points since the same time last week. 
Factors That Affect Interest Rates
Inflation: Inflation has been increasing as the economy recovers from the pandemic. This has made people worry that the Federal Reserve could have to hike interest rates to keep inflation in line, which would probably cause mortgage rates to go up.

Economic Growth: Even while inflation is a problem, economic expansion is a good thing that can also cause interest rates to go higher. As the economy continues to improve, there may be more demand for mortgages and other loans, pushing rates up. 

Federal Reserve Policy: Because of worries about inflation, the Federal Reserve has been giving signs that it might need to boost short-term interest rates. This would probably affect other interest rates, such as mortgage rates. 
Comparison of Current Rates To Historical Rates
Also, mortgage rates can be different in different parts of the country. For example, rates may be higher in places where more people are looking for homes or where the cost of living is higher like the Washington luxury real estate market. State and local taxation can also affect mortgage rates, housing supply, and the local economy. 
Regional Differences In Rates
Also, mortgage rates can be different in different places. For instance, rates may be higher in places where more people are looking for homes or where the cost of living is higher. State and local taxes can also affect mortgage rates, the number of homes for sale, and the local economy. 
Overall, mortgage interest rates are slowly going up because of things like inflation and the expansion of the economy. Even while rates are still low relative to historical norms, they are likely to keep increasing in 2023. This is an essential trend for homebuyers to remember when planning to buy. 
Mortgage Rates Predictions for 2023
Decreasing Mortgage Rates
Mortgage interest rates have skyrocketed in the last year, partly because of the Federal Reserve's monetary policy and the economic effects of the Covid-19 outbreak. However, several factors can result in lower mortgage rates in 2023. The persistent uncertainty surrounding the Covid-19 epidemic is among the key contributing factors. A halt in economic growth and a drop in interest rates could result from additional outbreaks or restrictions. 
Increased Inventory
Increased inventory is one of these trends. Many markets have a shortage of homes for sale, which has raised prices and made it harder for buyers to Determine The value of a property. However, as the economy recovers and more homeowners feel comfortable selling, experts predict that there could be a significant increase in inventory in 2023. This could lead to more choices for buyers and potentially lower prices.
More Sales
Another potential trend is an increase in home sales. While home sales have been strong in recent years, some experts predict they could reach even higher levels in 2023. Reduced mortgage rates, coupled with an increase in available homes, may be encouraging more buyers to enter the market. Additionally, as the economy continues to recover and more people feel confident in their financial situation, there could be a surge in demand for homes.
These trends could be good news for homebuyers looking to enter the market in 2023. With decreasing mortgage rates, more inventory, and a potentially strong sales environment, there may be more opportunities than ever to find the right home at the right price.
However, it's crucial to remember that these are only a mortgage rate forecast and that there are no assurances regarding the movement of mortgage interest rates. Homebuyers need to be ready for the likelihood of rising rates, and we have created the following information to assist you.
What Homebuyers Can Do To Prepare For Potential Changes
As the mortgage interest rate projection for 2023 shows, homebuyers should be ready for possible changes in interest rates as they plan their purchase. Here are a few things they can do to get ready: 
Get Pre-Approved For A Mortgage
Pre-approval for a mortgage becomes more critical as interest rates shift. By getting pre-approved, homebuyers can lock in an interest rate for a set amount of time (usually 60 to 90 days), even if rates go up. This can make them feel better and help them plan their money better. 
Determine Their Budget And Stick To It
When interest rates go up, so do monthly mortgage payments. Homebuyers should take the time to determine their monthly payments at different interest rates and include that in their budget. Even if it means looking at cheaper homes, stick to a budget you can maintain. 
Consider Adjustable- Rate Mortgages (ARMs)
For homebuyers seeking lower interest rates, adjustable-rate mortgages (ARMs) may be a good choice. ARMs start with a lower interest rate than fixed-rate mortgages, but market conditions can change that rate. Homebuyers should carefully consider the risks and benefits of ARMs before choosing this option.
Shop Around For the Best Rate
Interest rates can vary between lenders, so it's important to shop around and compare rates from different providers. Homebuyers should consider working with a mortgage broker or using an online comparison tool to find the best rate for their needs. 
Build Up A Healthy Down Payment
A bigger down payment is one way to make up for higher monthly mortgage payments. If they put a lot of money down, homebuyers may get a lower interest rate and lower mortgage amount. This can also make them more appealing to lenders because it shows they are responsible with their money and can handle debt. 
Overall, people who want to buy a home in 2023 should be proactive and ready for possible changes in mortgage interest rates.
In A Nutshell
In conclusion, mortgage interest rates may decline through 2023, though not as much as through 2020 and 2021. By working with a reliable lender and being financially prepared, buyers can capitalize on these trends and find the perfect home at the perfect price.
Ultimately, purchasing a home is a huge choice that demands careful thought and preparation. By staying up to date on market trends and working with qualified professionals, homebuyers can confidently achieve homeownership goals in 2023.
We would like to hear from you! If you have any questions, please do not hesitate to contact us. We are always looking forward to hearing from you! We will do our best to reply to you within 24 hours !