Rising Home Prices in Washington: Strategies for First-Time Homebuyers - George Moorhead
Friday, June 2, 2023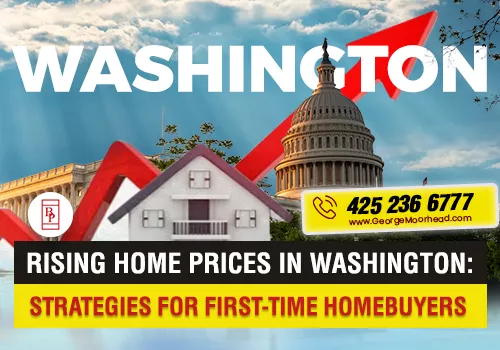 As home prices continue to rise in Washington's real estate market, first-time homebuyers face unique challenges in their quest to buy a home. The dream of owning a home in this beautiful state may seem impossible with rising prices, fewer homes for sale, and more competition. However, with right strategies, you can still navigate these obstacles and make informed decisions to secure your ideal home. 
In today's article, we'll talk about effective ways for first-time homebuyers in Washington real estate to buy a house. Whether you're exploring Seattle, Tacoma, or any other city, these tips will help you learn a lot. 
So, are you ready to learn the tips that can put you on the right track to buying a home in Washington? Well, we're going to assume that you are, so let's jump right into it, shall we? 
Understanding The Market
First-time homebuyers in Washington need to know how the market works, especially when home prices are steadily going up. As a possible buyer, it's important to do research and stay up-to-date on regional luxury real estate trends in Washington as well as the specific neighborhoods and areas that interest you. The following advice may aid in your market comprehension: 
Researching Washington's Current Market Conditions and Trends: It is important to read WA luxury real estate news and magazines that cover the Washington market. Find out about the median home price, how many homes are on the market, and how long they stay on the market on average. Look at past data to find patterns and trends in how prices change. 
Finding Growth and Affordability Potential Areas: Look into the different neighborhoods or cities in Washington to find places that are more affordable or have a better chance of rising in value in the future. Think about things like how close you are to job centers, schools, amenities, and ways to get around. 
Market Competition Analysis: Check how much competition there is among buyers, like if there are multiple offers on a property. Know what a seller's market means and be ready for a possible bidding war. Consider other ways to stand out from the other buyers.
Examining Historical and Projected Price Trends: Look at how prices have changed in Washington in the past to learn about past market cycles and appreciation rates. Think about projections and forecasts to find out how prices will change in the future. Use this information to make smart decisions about how to lower the prices of things you buy or negotiate. 
Setting A Realistic Budget
With rising home prices in Washington, it's easy to get caught up in the excitement and go over your budget. But this can cause trouble with money in the long run. Closing costs, property taxes, and maintenance fees should be included in your budget when buying a home. It's also important to plan for unexpected costs and give sellers some room to work with you. 
By setting a realistic budget, you can shop for a home within your means without overspending. Some tried-and-true methods for creating an affordable spending plan are outlined below. 
Evaluate Your Personal Finances: Begin by thoroughly assessing your current financial situation. Find out how much you can comfortably spend on housing by adding up your income, expenses, and debts. 
Set A Comfortable Price Range. Based on how much money you have, set a price range that fits your budget. Keep in mind that it's not just about how much you can borrow, but also about how much you can afford without putting your financial stability at risk. 
Explore Mortgage Options and Pre-Approval Process: Talk to mortgage lenders to find out about each option's terms, interest rates, and down payment requirements. Getting pre-approved for a mortgage can also help you figure out how much you can borrow and narrow down your spending plan.
Think About Your Long-Term Financial Goals: Consider how buying a home fits into your bigger financial plans, such as saving for retirement, paying off other debts, or saving for future expenses.
Saving For Down Payment
When it comes to purchasing a home, the down payment can often be one of the biggest hurdles for first-time homebuyers. In this section, we explore various tips and tricks for building up that all-important nest egg. Starting your down payment journey can be as simple as opening a savings account or cutting back on unnecessary spending. Let's get started: 
Create A Budget & Savings Plan: Find places where you can spend less, and put the money you save toward your down payment. Set specific goals for saving money and create a realistic timeline to keep track of your progress.

Automate Your Savings: Make saving a priority by setting up automatic transfers from your checking account to a separate savings account. So, a regular amount of your income will be put into your down payment fund without you having to start the process yourself.

Reduce Unnecessary Expenses: Think about spending less on eating out, entertainment, and things you don't need. Put those funds toward saving for your down payment. Making small sacrifices now can boost your down payment in the long run.

Save Bonuses & Tax Refunds: If you get money you didn't expect, like a work bonus, a tax refund, or a gift, don't spend it right away. Instead, put them straight into your fund for a down payment. This will help you save more.

Keep An Eye on Your Credit & Debt: If you want to get a good mortgage deal, you need to keep your credit score high. Watch your credit report, pay your bills on time, and don't get any new debt. A good credit score can help you get a mortgage with a good interest rate.
Prioritizing Must Haves vs. Nice-To-Haves
When it comes to buying a home, it can be easy to get caught up in all the features and amenities that come with a property. But first-time homebuyers need to decide which things are must-haves and which are nice-to-haves in order to stay on budget. Consider the following methods for sorting your wants and needs: 
Determine Your Non-Negotiables: Start by making a list of features and characteristics that are essential for your new home. These non-negotiables will serve as the foundation of your search. 

Consider Your Lifestyle: Think about your lifestyle and how your new home will support it. Understanding how your new home will fit into your daily life will help you determine your must-haves features. 

Evaluate Long-Term Needs: Look beyond the present and consider your future plans. Are you planning to expand your family? Will you need extra space for hobbies or a home gym? Anticipating your long-term needs can help you prioritize features that will accommodate your evolving lifestyle.

Rank Your Preferences: Once you have identified your must-haves, rank them in order of importance. This will give you a clear understanding of your priorities and guide your decision-making process. Remember that flexibility on nice-to-have features can provide more options within your budget.
Exploring Alternative Housing Options 
Exploring alternative housing options is a great way for first-time homebuyers to enter the Washington housing market while avoiding the high prices that accompany traditional single-family homes. 
One option that's gaining popularity is the tiny house movement, a lifestyle trend that lets individuals live in compact, sustainable homes that usually measure less than 400 square feet. Tiny homes are surprisingly spacious inside and can offer an affordable entry into the housing market. 
Additionally, they're beneficial in terms of their low carbon footprint and the freedom they give homeowners to travel, experience new things, and minimize their possessions. For first-time homebuyers looking to save money and lead a more minimalist lifestyle, tiny homes are definitely worth exploring.
Taking Advantage of Homebuyer Programs & Incentives
Many states and localities offer programs that can provide financial assistance, down payment assistance, and low-interest loans. These programs are designed to help first-time buyers, low-income families, and those with less-than-perfect credit get into a home of their own. Some programs even offer education and counseling to help you understand the process and make informed decisions. Consider the following homebuyer programs and incentives:
Down Payment Assistance Programs: Many states, including Washington, offer down payment assistance programs that provide grants or low-interest loans to help with the upfront costs of purchasing a home. These programs can help bridge the gap between your savings and the required down payment amount.

First-Time Homebuyer Grants: Explore grants available to first-time homebuyers. These grants, typically offered by government agencies or nonprofit organizations, provide funds that do not need to be repaid. They can be used for down payment assistance, closing costs, or other eligible expenses.

Mortgage Credit Certificates (MCCs): MCCs are tax credits that allow eligible homebuyers to claim a percentage of their mortgage interest as a credit on their federal income tax return. 
With so many options available, it's crucial to take the time to research and find the right program for your needs. By taking advantage of these programs, you can make your dreams of homeownership a reality.
Closing Remarks
In the end, first-time homebuyers in Washington can deal with rising prices and increase their chances of becoming homeowners by making a realistic budget, saving for a down payment, making a list of must-haves, looking into alternative housing options, and taking advantage of homebuyer programs. The dream of owning a home can come true with careful planning and smart decisions.
We would like to hear from you! If you have any questions, please do not hesitate to contact us. We are always looking forward to hearing from you! We will do our best to reply to you within 24 hours !