How to Navigate the Process of Buying Foreclosed Properties
Friday, August 18, 2023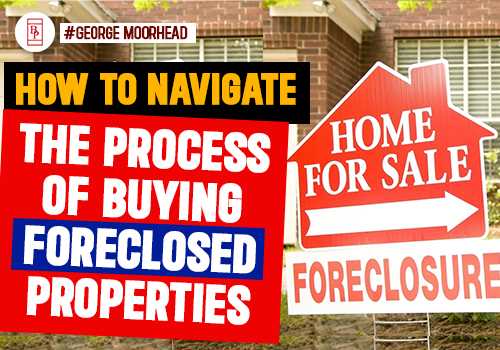 In the real estate world, opportunities abound for those who are informed, prepared, and know where to look. One such opportunity is purchasing foreclosed homes. For many, the idea of buying a foreclosed home brings to mind incredible bargains, but it's essential to understand the process and risks involved. This article will provide insights into how to buy a foreclosed home and guide you through the intricate dance of navigating this unique real estate avenue.
What is a Foreclosure?
Firstly, understanding what foreclosure means is crucial. When a homeowner cannot keep up with their mortgage payments, the lending institution may take over the property. After this, the property is often sold, typically at a public auction, to recover the owed amount. The properties that are not sold at auction might be taken back by the bank and become real estate-owned (REO) properties. For example, if you have bought a property with the help of a mortgage in Washington Luxury Real estate If you are unable to pay the amount back, the lender will take control of your property to regain his funds.
Why Consider Buying a Foreclosed Home?
Foreclosed homes can be alluring for a couple of reasons:
Price: They are often priced below market value, offering the potential for significant savings.
Potential for Profit: For investors or those skilled in home renovations, foreclosed homes can be transformed and resold for a profit.
Research and Preparation: Begin by determining your budget and familiarizing yourself with the local real estate market. Engage a real estate agent with experience in foreclosures.
Secure Financing: It's a good idea to get pre-approved for a loan. Many banks selling REO properties prefer buyers who are pre-approved.
Find Foreclosed Properties: There are several avenues to explore:
Banks and credit unions: Check their websites for REO listings.
Foreclosure listing services: Many online platforms specialize in listing foreclosed properties.
Real estate agents: They often have access to foreclosure listings before they become public knowledge.
Inspect the Property: Foreclosed homes are usually sold "as-is." It's wise to inspect the home to uncover any potential issues.
Make an Offer: If the property is at auction, be prepared to compete with other bidders. For REO properties, your real estate agent can guide you through the process.
Close the Deal: If your offer is accepted, move forward with the closing process. Ensure all paperwork is in order and engage professionals like real estate attorneys when necessary.
Navigating the Risks and Challenges
While the process of buying a foreclosed home may seem straightforward, several challenges might arise:
Competition: Foreclosed homes, especially those priced below market value, attract a lot of attention.
Potential for Hidden Costs: Maintenance, repairs, and unpaid property taxes can add unexpected costs.
Emotional Toll: Remember that foreclosure often results from financial hardship. Be respectful and sensitive to previous homeowners.
Buying a foreclosed home can be a lucrative venture, whether you're looking for a home for yourself or an investment property. However, it's a path filled with potential pitfalls. By understanding the process, securing proper financing, and enlisting the help of experienced professionals, you can navigate the journey of buying foreclosed properties with confidence.
We would like to hear from you! If you have any questions, please do not hesitate to contact us. We are always looking forward to hearing from you! We will do our best to reply to you within 24 hours !