Everything You Need to Know About Relocating to Bellevue
Monday, August 21, 2023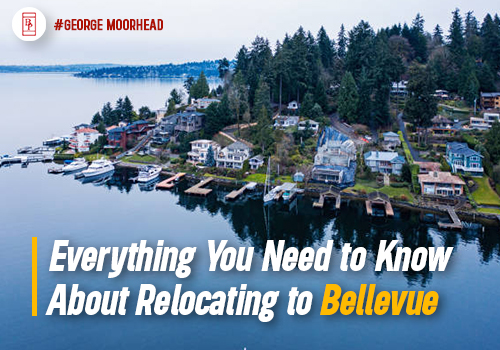 Nestled between Lake Washington and Lake Sammamish in Washington State, Bellevue has become a sought-after destination for both residents and businesses. If you're contemplating a move to this picturesque city, you have plenty to anticipate. With its flourishing job opportunities, exceptional schools, cultural richness, and recreational offerings, Bellevue real estate caters to diverse interests. This thriving Pacific Northwest gem seamlessly combines urban convenience and natural beauty, making the decision to relocate both exciting and rewarding.
1. A Thriving Economic Hub
Bellevue is not just a residential city but also an economic powerhouse. Home to numerous tech companies, including parts of Microsoft and T-Mobile, the city is also a magnet for startups and entrepreneurs. The job market is robust, offering opportunities in a variety of fields.
2. Education and Schools
Bellevue's school district is renowned for its commitment to academic excellence. With consistently high rankings at both the state and national levels, families moving to Bellevue can be confident in providing quality education for their children.
3. Diverse Communities and Cultures
Bellevue is a melting pot of cultures, with a rich tapestry of communities from all over the world. This diversity is reflected in its restaurants, festivals, and community events. There's a wide variety of international cuisine, and many cultural celebrations take place year-round.
4. Recreational Activities
Nature enthusiasts will fall in love with Bellevue's parks and recreational areas. With spots like the Bellevue Botanical Garden, Meydenbauer Beach Park, and the expansive Cougar Mountain Regional Wildland Park nearby, there's always an opportunity to connect with nature. Additionally, the city hosts various events and festivals throughout the year, ensuring there's always something happening.
5. Real Estate and Living Costs
While Bellevue offers a plethora of amenities and opportunities, it's essential to note that the cost of living is higher than the national average. Housing can be particularly expensive, but the neighborhoods offer a mix of historic homes, modern condos, and luxurious estates. It's crucial to research and budget accordingly for these WA Homes for Sale.
6. Transport and Connectivity
The city's transportation network is well-developed. Bellevue is well-connected by bus routes, and there's a growing emphasis on bike lanes and pedestrian pathways. Additionally, with its proximity to Seattle, residents have easy access to the larger metropolitan region's amenities and international airport.
7. Safety and Quality of Life
Bellevue consistently ranks as one of the safest cities in Washington. With its low crime rate, excellent healthcare facilities, and community-centric approach, it ensures a high quality of life for its residents.
8. Weather and Climate
Bellevue experiences a maritime climate. Summers are relatively mild, while winters can be cool and damp. The city does get its fair share of rain, which contributes to its lush green surroundings. However, snow is rare, making winters more manageable than in some other parts of the country.
Relocating to Bellevue offers a chance to experience the best of the Pacific Northwest lifestyle. From its thriving economy and diverse culture to its stunning natural landscapes, the city provides a well-rounded living experience. While the cost of living may be higher than some other places, the benefits and opportunities the city offers can make it a worthwhile choice for individuals and families seeking a vibrant and fulfilling life. As with any move, thorough research and planning are essential, but the rewards of living in Bellevue are well worth the effort.
We would like to hear from you! If you have any questions, please do not hesitate to contact us. We are always looking forward to hearing from you! We will do our best to reply to you within 24 hours !