The Pros and Cons of Buying or Selling a House in Winter
Tuesday, September 5, 2023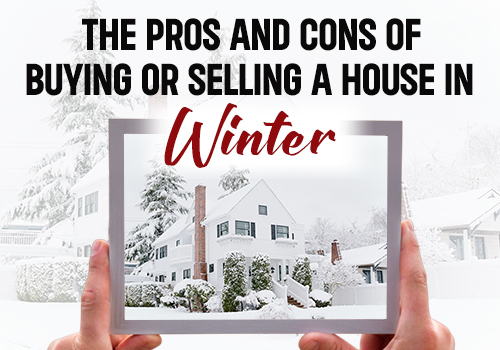 Winter is not usually considered the best time to buy or sell a house, as most people prefer to do so in the spring or summer when the weather is warmer and the days are longer. However, buying or selling a house in the winter can have some advantages and disadvantages that you should be aware of before making a decision. In this article, we will discuss some of the pros and cons of buying a house in the winter and its disadvantages:
Pros of Buying a House in Winter
One of the main benefits of buying a home in the winter is less competition. Fewer buyers are out braving the cold, which means there's a better chance you won't end up in a bidding war, and you might even have a stronger negotiating position.
Those who list their homes in the winter might be more motivated to sell, leading to potentially lower prices or a greater willingness to negotiate terms in the buyer's favor.
See the Home's Winter Performance: 
It's beneficial to see how a home fares in the colder months. Suppose you are buying WA Homes for sale. You can identify potential issues like drafts, insufficient heating, or even problems with the roof that might not be as apparent in warmer weather.
Availability of Professionals: 
With fewer transactions taking place, real estate agents, inspectors, and mortgage brokers might have more availability, leading to faster and more personalized service.
If you close on a home at the end of the year, there might be potential tax deductions available to you, such as mortgage interest, property taxes, and points.
Cons of Buying a House in Winter
Limited Inventory: 
There are typically fewer homes listed in the winter, which might reduce your options and make finding the perfect home a bit more challenging.
Moving Challenges: 
Moving in snowy or rainy conditions can be problematic. Roads can be slick, and carrying items in and out of homes can become a slippery endeavor.
Shorter Days: 
With fewer daylight hours, it can be challenging to view properties after work or in the late afternoon.
Potential Delays: 
Winter weather can delay processes like home inspections or even the closing process if professionals can't get to the property due to weather conditions.
Pros of Selling a House in Winter
While the median sale price is lower in the winter than in other seasons, that does not mean that you have to sell your home for less. In fact, you may be able to sell your home for more than its market value, as buyers may be willing to pay a premium for a home that meets their needs and expectations. You may also be able to get more favorable terms and conditions from buyers, such as fewer contingencies or faster closings.
Buyers who are house hunting in the winter are often more serious and motivated, reducing the number of "window shoppers."
Just as there's limited inventory for buyers, sellers can benefit from fewer homes being on the market. This might make your property stand out more to potential buyers.
Selling a house in the winter can also give you an opportunity to showcase your home's best features and create a cozy and inviting atmosphere for buyers. For example, you are selling Houses for sale in Kirkland WA. You can highlight your home's energy efficiency, insulation, heating system, fireplace, and lighting. You can also decorate your home with seasonal touches, such as wreaths, candles, blankets, and pillows. You can also use scents, such as cinnamon, vanilla, or pine, to create a warm and pleasant ambiance.
Cons of Selling a House in Winter
Curb Appeal Challenges: 
Snow, bare trees, and gray skies can diminish a home's curb appeal, making it less enticing to potential buyers.
Potential for Lower Offers: 
Some buyers believe they can get a deal during the winter, leading them to make lower offers.
Holiday distractions: 
Selling a house in winter can also coincide with the busy holiday season, which can distract you from your home sale or make it harder to schedule showings, inspections, appraisals, and closings. You may also have less time and money to devote to your home sale due to other holiday commitments and expenses.

Buying or selling a house in the winter can have some pros and cons that you should consider before making a decision. Depending on your situation, goals, and preferences, you may find that winter is the best time for you to buy or sell a home, or you may prefer to wait until another season. Either way, you should do your research, plan ahead, and work with a professional real estate agent who can help you navigate the market and achieve your desired outcome. 
We would like to hear from you! If you have any questions, please do not hesitate to contact us. We are always looking forward to hearing from you! We will do our best to reply to you within 24 hours !