Smart Strategies for a Successful Home Purchase
Saturday, September 9, 2023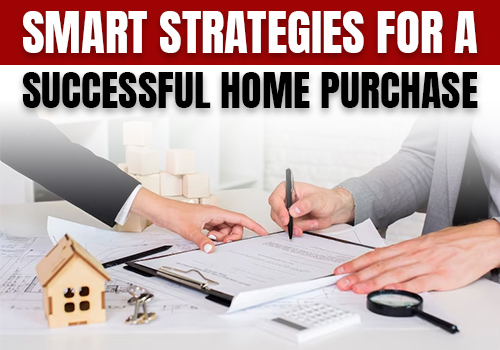 Navigating the real estate landscape, especially in the competitive environment of 2023, can feel overwhelming. However, with the right strategies and insights, you can position yourself for a successful home purchase. Whether you're a seasoned investor or taking the first steps as a First-Time Home Buyer, these strategies will empower you. Let's explore the ins and outs of "How to Buy a House in 2023" and delve into some essential first-home buyer tips.
1. Understand the 2023 Housing Market
Real estate is ever-evolving, and 2023 is no exception. Research current market trends. Are we in a buyer's or seller's market? Are mortgage rates forecast to rise or fall? Being informed will allow you to time your purchase strategically. For instance, in order to effectively negotiate when looking for Clyde Hill WA homes for sale, you must first understand the local housing market.
2. Financial Preparation is Key
Before exploring listings, understand your financial health. Assess your credit score, consolidate any outstanding debts, and save for a sizeable down payment. A robust financial profile can make you an attractive buyer and open doors to better mortgage rates.
3. Prioritize Pre-Approval
In 2023's competitive market, having a mortgage pre-approval can distinguish you from other buyers. It not only provides clarity on what you can afford but also demonstrates your seriousness toward sellers.
4. Be Clear on Your Must-Haves
Distinguish between needs and wants. Are you looking for proximity to schools, a certain number of bedrooms, or a spacious backyard? Being clear on non-negotiables helps refine your search and make decisive offers.
5. Enlist Professional Help
While the digital age provides numerous online tools for home buyers, nothing can replace the insights and experience of a seasoned real estate agent. They can offer localized market insights, provide negotiation expertise, and guide First-Time Home Buyers through the intricacies of the purchasing process. For instance, getting professional assistance is our top priority when buying Washington Luxury Real Estate because they are knowledgeable about every aspect of the real estate market. 
6. Location Matters
While a house can undergo renovations, its location is permanent. Consider factors like neighborhood safety, accessibility to amenities, future development plans, and potential appreciation value.
7. Always Opt for a Home Inspection
Regardless of how perfect a home may seem, always invest in a professional home inspection. Uncovering potential issues upfront can save significant costs and headaches down the line.
8. Be Ready to Act Swiftly But Thoughtfully
Given the competitive nature of the 2023 market, be prepared to make swift decisions. However, avoid getting caught up in bidding wars that can lead you to overextend financially.
9. First-Time Home Buyer Tips: Avail of Special Programs
Many governments and financial institutions offer incentives and programs designed for First-Time Home Buyers. These can include lower down payment requirements, tax incentives, or discounted mortgage rates. Research and leverage these to your advantage.
10. Visualize Long-Term
Buying a house isn't just a purchase; it's an investment. Think about the long-term implications of your decision. Can you see yourself in this house in a decade? Is the area growing or declining?

2023 brings its own set of challenges and opportunities in the world of real estate. Armed with these strategies and a keen focus on your goals, you're well on your way to making a successful home purchase. Whether it's your first home or an addition to your property portfolio, a well-informed approach is the cornerstone of a smart investment.
We would like to hear from you! If you have any questions, please do not hesitate to contact us. We are always looking forward to hearing from you! We will do our best to reply to you within 24 hours !