Finding Your Place: The Art of Selecting the Right Home
Thursday, September 14, 2023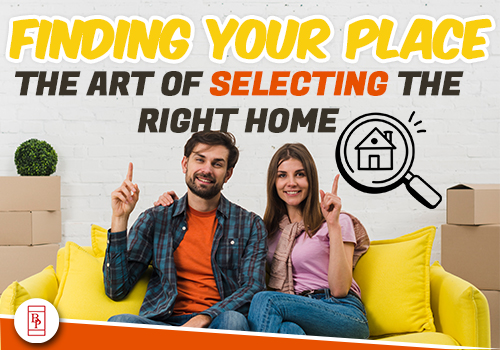 Buying a home is one of the most important and exciting decisions you can make in your life. However, it can also be one of the most challenging and overwhelming ones, as there are many factors to consider and options to choose from. How do you find the perfect home that meets your needs, preferences, and budget? How do you navigate the complex and competitive real estate market? How do you avoid common pitfalls and mistakes that can cost you time, money, and happiness?
For many, a home represents more than just bricks and mortar. It's a sanctuary, a space of comfort, memories, and dreams. But how does one navigate the vast real estate landscape to pinpoint their ideal residence? The quest for the Perfect Home is both an art and a science. 
What Are The Benefits Of Buying A Home?
Buying a home can have many benefits for you and your family, such as:
•  Building Equity: 
When you buy a home, you are investing in an asset that can increase in value over time. As you pay off your mortgage, you are building equity, which is the difference between the market value of your home and the amount you owe on it. Equity can be used as a source of wealth, security, or credit for other purposes, such as home improvement in Kirkland houses for sale, education, or retirement.
•  Enjoying Tax Benefits: 
When you buy a home, you may be eligible for various tax benefits, such as deducting your mortgage interest, property taxes, and mortgage insurance premiums from your income tax. You may also be exempt from paying capital gains tax when you sell your home if you meet certain criteria.
•  Having Stability And Control: 
When you buy a home, you have more stability and control over your living situation. You don't have to worry about rent increases, eviction notices, or landlord rules. You can customize your home to suit your tastes and needs. For example, People can customize their homes in Bellevue WA Homes For Sale according to their needs. You can also enjoy a sense of belonging and community in your neighborhood.
•  Improving Your Quality Of Life: 
When you buy a home, you can improve your quality of life in many ways. You can have more space, comfort, and privacy. You can have access to better amenities, services, and schools. You can also have more satisfaction, pride, and happiness.
Let's delve deeper into the intricacies of this journey, offering insights to guide you in Finding Your Perfect Home.
1. Understand Your Needs And Desires
Start with introspection. What do you truly want in a home? While it might sound simplistic, distinguishing between wants and needs can be challenging. Your needs might include the number of bedrooms for your family or proximity to work, while desires could range from a luxurious kitchen to a backyard pool. Establishing a clear distinction ensures you don't compromise on essentials.
2. Location Is Key
The age-old real estate mantra, "location, location, location," remains true. The perfect house in the wrong area can quickly lose its appeal. Think about proximity to essential services, the nature of neighboring properties, safety, schools, and commute times. Remember, you can renovate a home but can't change its location.
3. Stick To Your Budget
While Finding Your Perfect Home might tempt you to stretch your budget, it's vital to remain grounded in financial realities. Determine what you can comfortably afford, considering not only the purchase price but also property taxes, maintenance costs, utilities, and potential future interest rate hikes.
4. Think Long-Term
While it's natural to focus on current needs, consider the future. Are you planning to expand your family? Might you need a home office down the road? Investing in a house that can adapt to your evolving needs can be a wise decision.
5. Do Thorough Research
In this digital age, a plethora of resources can aid in Finding Your Perfect Home. From virtual tours to neighborhood reviews, take advantage of available tools to gather comprehensive information about potential homes and areas.
6. Trust Your Instincts
The emotional component of selecting a home is undeniable. Sometimes, a house just feels right. It's where the art and science of home-buying intersect. While it's essential to make an informed decision, don't ignore your gut feelings.
7. Seek Professional Guidance
Real estate agents offer invaluable insights, especially if you're venturing into unfamiliar territories. Their knowledge of market trends, neighborhoods, and negotiation strategies can be indispensable in finding and securing your dream home.
8. Be Patient
The journey to the Perfect Home can be lengthy and, at times, frustrating. But remember, it's a significant decision that shouldn't be rushed. The right home is out there, and with patience and diligence, you will find it.
Parting Words
The odyssey of home-buying is as unique as the individuals embarking on it. Whether you're a first-time buyer or a seasoned homeowner, the quest for the Perfect Home requires a blend of research, introspection, and, sometimes, a touch of serendipity. Approach it with an open heart and informed mind, and you'll be well on your way to Finding Your Perfect Home.
We would like to hear from you! If you have any questions, please do not hesitate to contact us. We are always looking forward to hearing from you! We will do our best to reply to you within 24 hours !