Exploring Kirkland Real Estate: Tips for a Successful Home Purchase
Saturday, September 16, 2023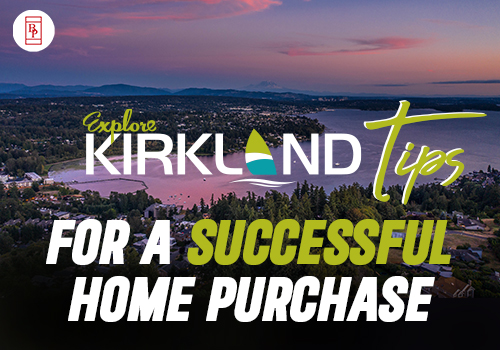 Located on the shores of Lake Washington, Kirkland is a beautiful, vibrant community that offers an exceptional quality of life. It offers a variety of attractions and amenities for residents and visitors alike. Kirkland is known for its waterfront parks, art galleries, restaurants, and festivals. Kirkland is also home to several major companies, such as Google, Microsoft, and Costco.
As with any real estate market, buying WA Homes for Sale can be both exciting and challenging. For those considering a move to this charming locale, it's essential to be well-prepared and informed. This article will give you some handy tips for home purchases in Kirkland to ensure a smooth and successful home-buying journey.
What Are The Current Real Estate Trends In Kirkland?
The median listing price in Kirkland was $1,100,000 as of August 2023. The median price per square foot was $522. The median rent price was $2,600. The average number of days on the market is 14.
What Are The Best Neighborhoods To Buy A Home In Kirkland?
Kirkland has many neighborhoods that offer different lifestyles, amenities, and price ranges for homebuyers. Some of the best neighborhoods to buy a home in Kirkland are:
• Houghton: Houghton is a neighborhood in southwest Kirkland that overlooks Lake Washington and offers stunning views of Seattle and the Olympic Mountains. Houghton is known for its upscale homes, excellent schools, and proximity to downtown Kirkland and Bellevue. Houghton has a median home value of $1,500,000.
• Juanita: Juanita is a neighborhood in northeast Kirkland that borders Juanita Bay and Juanita Beach Park. Juanita is known for its diverse and affordable homes, vibrant community, and access to nature and recreation. Juanita has a median home value of $800,000.
• Finn Hill: Finn Hill is a neighborhood in northwest Kirkland that borders Big Finn Hill Park and Saint Edward State Park. Finn Hill is known for its spacious and wooded lots, family-friendly atmosphere, and outdoor activities. Finn Hill has a median home value of $900,000.
What Are The Kirkland Real Estate Tips to ensure a smooth and successful home purchase?
1. Understand the Local Market
Kirkland, like many desirable locations, can have its own unique set of market dynamics. Before buying Houses for sale in Kirkland WA, familiarize yourself with current housing trends, median home prices, and how long homes typically stay on the market. Knowledge of the local market nuances can empower you to make informed decisions.
2. Prioritize Location
In real estate, it's often said that the three most important things are location, location, and location. Kirkland offers a range of neighborhoods, each with its own distinct charm and characteristics. When considering a property, think about its proximity to schools, parks, shopping, and transportation. Remember, while you can change a house, you can't change its location.
3. Secure Financing Early
One of the fundamental tips for home purchases anywhere, including in Kirkland, is to secure your financing early. Obtain a pre-approval letter from your bank or lender, which not only gives you clarity on what you can afford but also makes you a more attractive buyer to sellers.
4. Work with a Local Realtor
Local realtors have a deep understanding of Kirkland's neighborhoods, schools, and community amenities. They can provide valuable Kirkland Real Estate Tips that might not be readily available online or in listings. Choose a realtor with a solid reputation and local expertise to guide you through the buying process.
5. Inspect Thoroughly
The Pacific Northwest's climate can pose specific challenges to homes, such as moisture-related issues. When you find a property you're interested in, invest in a comprehensive home inspection. This can reveal potential problems and save you from costly repairs down the road.
6. Be Prepared to Act Quickly
Desirable properties in Kirkland can get snapped up quickly. While you shouldn't rush into a decision, being prepared and decisive can be the difference between securing your dream home and missing out.
7. Think Long-Term
When exploring Kirkland real estate, it's essential to consider your long-term plans. Are you looking for a starter home or a forever home? Thinking about your long-term goals and how a property aligns with them is crucial.
8. Don't Forget About Resale Value
Even if you plan to stay in your home for a long time, it's wise to consider its potential resale value. Think about the property's location, size, condition, and features in the context of future marketability.
Buying a home in Kirkland can be an exciting and rewarding experience, as Kirkland offers a variety of attractions and amenities for residents and visitors alike. However, buying a home in Kirkland can also be challenging, as Kirkland has a competitive and expensive real estate market that requires research, planning, and negotiation. With the right approach and by leveraging these Kirkland Real Estate Tips, you can navigate the local market effectively, ensuring a successful home purchase that meets your needs.
We would like to hear from you! If you have any questions, please do not hesitate to contact us. We are always looking forward to hearing from you! We will do our best to reply to you within 24 hours !