5 Top Trends in Real Estate Marketing You Should Adapt in 2023
Tuesday, September 19, 2023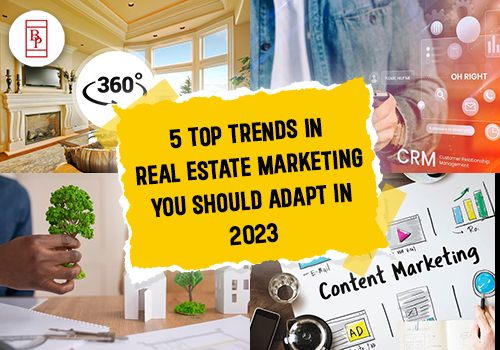 Real estate marketing is the process of promoting and selling real estate properties through various marketing channels and strategies. It involves creating and distributing content, such as property listings, virtual tours, and promotional materials, to attract potential buyers and generate leads. Suppose you are looking to buy a  property in Sammamish Real Estate. Real estate marketing can also involve networking and building relationships with potential buyers and other industry professionals, as well as utilizing technology and digital tools, such as social media and websites, to reach a wider audience. The ultimate goal of real estate marketing is to generate interest and drive sales for properties.
However, real estate marketing is not a static or one-size-fits-all activity. The real estate industry is ever-evolving, with innovations and changes that significantly impact how agents and developers reach their audiences. Staying updated with the latest shifts is crucial for those who wish to remain competitive. As we tread into 2023, here are the top trends in real estate marketing you shouldn't miss:
1. Virtual and Augmented Reality Tours:
The digital age has brought about a revolution in property viewing experiences. Gone are the days when potential buyers or renters had to physically visit every property they were interested in. With the advancements in Virtual Reality (VR) and Augmented Reality (AR), individuals can now get an immersive experience of the property without leaving their homes. For real estate agents and firms, offering VR and AR tours can set them apart and cater to an increasingly tech-savvy clientele.
2. AI-Powered Chatbots and CRM Systems:
Incorporating artificial intelligence into real estate marketing strategies is no longer optional. With AI-driven chatbots, real estate businesses can provide instant responses to client queries, ensuring potential leads are engaged immediately. Additionally, AI-powered Customer Relationship Management (CRM) systems can help agents predict buying behaviors, leading to more personalized and effective communication with prospects.
3. Eco-friendly and Sustainable Property Marketing:
As global awareness about sustainability grows, the demand for eco-friendly properties is on the rise. Highlighting the green features of a property, whether it's energy-efficient appliances or solar panels, can be a significant selling point. Trends in real estate marketing now lean towards promoting sustainability and environmentally friendly aspects, which appeal to a growing demographic of conscious consumers.
4. Hyper-local Content Marketing:
While the broader market trends are essential, 2023 sees a shift towards hyper-local content. This means real estate agents are producing content – be it blogs, videos, or infographics – that specifically focuses on local neighborhoods, communities, or city sectors. By doing so, they position themselves as local experts, providing value to prospects looking for specific information on particular locales.
5. Integration of Big Data:
Big data has gradually found its place in various industries, and real estate is no exception. By analyzing vast amounts of data, from buying trends to property price fluctuations, agents can make informed decisions. Real estate marketing strategies backed by big data insights allow for better targeting, predictive analysis, and more streamlined operations.
Real estate marketing is an ever-evolving realm, demanding consistent adaptation and pioneering strategies. As we continue to venture into 2023, the industry is buzzing with anticipation. Those immersed in real estate will find that embracing the leading trends is not a mere suggestion but necessary. As technology seamlessly intertwines with traditional practices, it is the forward-thinking agents and firms that innovate and evolve with the times that will definitely stand out.
We would like to hear from you! If you have any questions, please do not hesitate to contact us. We are always looking forward to hearing from you! We will do our best to reply to you within 24 hours !